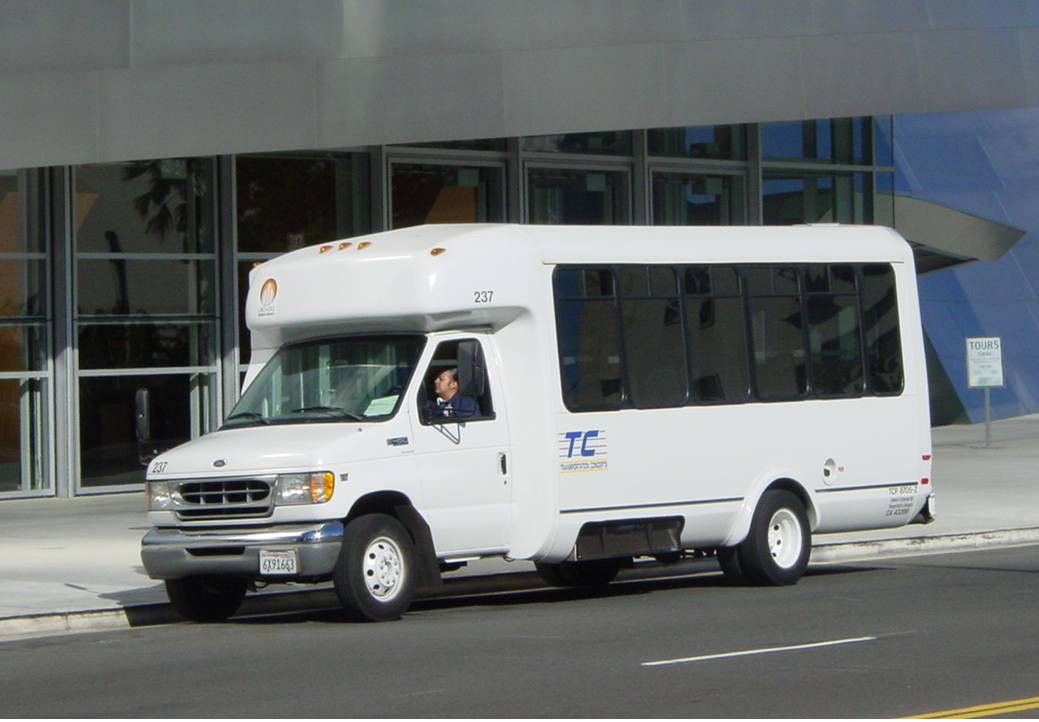 Transportation Concepts has been providing transportation service solutions to individuals, companies and government agencies for the past 24 years. Our team of professionals can tailor a service to meet your unique needs that is safe, reliable and cost-effective.
Services provided Include:
Fixed Route, Connector, and Commuter Services - Transportation Concepts provides regularly scheduled fixed-route transit and circulator services for Cities and Municipal Agencies needing to provide transportation to local residents and visitors to local attractions, retail centers, medical facilities etc. This service is provided in a safe and clean vehicle with a trained professional driver in a timely professional manner that allows the passengers to depend on the service for their transportation needs. Our goal is to ensure customer satisfaction. Many employees would use public transit such as the light rail, if they had a convenient way to get between the train stations and their place of employment. Trans­por­tation Concepts provides this solution in the form of clean, comfortable shuttle buses that are waiting at the station when the train arrives that return them reliably back to the station in time to catch their train home in the evening. Com­muter transit connection services can be leveraged with other businesses in your area to provide a very cost-effective employee benefit and one that re­duces the demand on limited parking resources. Subsidies and credits are available to many businesses through local air-quality agencies for qualify­ing trip reduction programs, such as an incentive plan to increase the number of employees who use public transit.
Dial-a-Ride and ADA Paratransit Services - Transportation Concepts works with communities through local government to provide dial-a-ride for those who do not have fixed-route services in their community or as supplemental service to fixed-route service. The Americans with Disabilities Act of 1990 (ADA) requires all public transit operators to provide special service to persons whose disabilities prevent them from using public transit. The special service, called "paratransit service," operates at similar times and in similar areas as existing non-commute (off-peak), fixed-route transit. Again, Transportation Concepts provides this service safely and effectively through contractual agreement as a partner to the City or municipal agency required to provide this service.
Employee Parking, Campus, and Airport Shuttles - Providing enough space to accommodate the parking needs of growing workforce, student bodies and travelers is an ever in­creasing challenge for employers, college campuses, and airports. More and more, these entities are forced to provide off-site parking to accommodate these needs. Transporta­tion Concepts can provide an easy and convenient solution to these off-site parking chal­lenges by providing shuttle service to connect the remote lot to work sites, educational facilities, and airports. Our professionally main­tained and operated shuttle buses will safely and re­liably transport your passengers from an off-site employee parking lot to the designated destination on the fre­quency that you determine best meets your needs.
Special Event Transportation - Off-site meetings with employees and/or customers are an increasingly effective means of sharing information. Group transportation is a sure-fire way to maximize the effectiveness of these events and to avoid a num­ber of potential problems as well. Group transporta­tion to off-site events in­sures that none of your participants get lost, that the participants arrive on-time, and that group communications and networking are facilitated by providing a stress-free environment on the way to and from the meeting for the participants to begin their dialogue. Transportation Concepts professionals can design a transportation program for your next off-site event that is sure to enhance the effectiveness and pro­ductivity of the session.
Transit Management - Under a Transit Management contract, Transportation Concepts provides the management team, corporate resources, and expertise to direct your employees in the delivery of transit service customized to meet your organization's needs. Transportation Concepts has provided this service for South County Senior Services, a non-profit organization in Orange County, to assist the agency in the delivery of high-quality and efficient specialized transportation service. Through the association with TC, South County Senior Services significantly expanded the scope of its operations, upgraded regulatory reporting processes, implemented a computerized schedule and dispatch system and enhanced its driver training programs. Transit management contracts can combine the strengths of TC's operational and management expertise and resources, while maintaining ownership of the operation within the agency.
Fleet Maintenance - Transportation Concepts has a strong commitment to fleet maintenance based upon the precepts of preventive maintenance. TC has developed procedures to ensure fleet longevity.